"Her passion for reflexology is unstoppable, enthusiasm and support for her students overflowing"
Reflexions Magazine
"I can never thank you enough for showing me the way to my own life's work as you lined the essence of your own..."
THE COURSE: LEVEL 3 DIPLOMA IN REFLEXOLOGY FOR WELLBEING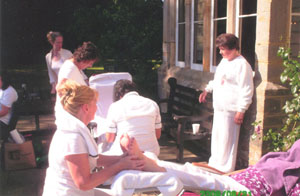 The course is spread over 10 months and comprises 18 training days (8 full weekends plus 2 Sundays) as well as Home Study between training days.
THE NEXT COURSE BEGINS: SUNDAY 10TH OCTOBER 2021
The course includes:
Anatomy and physiology including pathologies,
Business aspects of being a Reflexologist, different ways of working and legislation
Reflective practice
Health and Safety
Practical skills (taught in class, practice at home)
Case Studies (60 treatments – 6 people 10 treatments)
Clinic Notes (27 treatments)
Client Studies (3 treatments)
10 practice hours
(for full syllabus see www.abcawards.co.uk )
Successful students who have completed all the work required will be awarded the Level 3 Diploma in Reflexology and will be able to apply for full membership of the Association of Reflexologists (AOR). Students will be encouraged to join the AOR as a student member to allow access to the many benefits this organisation offers. More information visit www.aor.org.uk
COST:
The cost of training is £1900.00. A booking fee (non-refundable) is required to secure your place on the course followed by 10 monthly payments of £160.00 paid by standing order.

For more information please call 01892 740337 or email j.grosvenor@btinternet.com.
The school has its own handbook and foot chart and these are available on the first training day.
Recommended Reading:
"Anatomy & Physiology – therapy basics" Helen McGinness
"Human Body" Dorling Kindersly
"Reflexology – A Practical Approach" Vicki Pitman
"Better Health with Foot Reflexology" Dwight Byers
Students and Teachers


Thank you cards from the students